BacktestRenko Bars
Renkos with a Backtest Mode
---
Summary
BacktestRenko is the first multipurpose hybrid Renko bar. This distinctive tool accomplishes multiple tasks in one package. In other words, the SiBacktestRenko is two bar types in one.
In this image »
#1 Backtest Mode Off. This creates a smooth wave like action. Phantom bars will be created if necessary to fill gaps.
#2 Backtest Mode On. This mode reveals the true Open price of the bar for more acturate back-testing results.
#3 Short bars, like this with no tail, indicates a strong move in price. Trending information you will miss when using other Renkos.
---
Backtest Mode = Off (as seen on top) generates the standard median Renko style that has become a favorite among day traders. Its magnetism and popularity is due to the smooth wave-like style that it embellishes the chart with. Finally, a trading instrument that is easy on the eyes and simple to follow!
With Backtest Mode = On (as seen in the middle), an even higher level of accurate back-testing is accomplished. In this mode the SiBacktestRenko exclusively utilizes true trade data for the Open, High, Low, & Close of each bar. Even price gaps are accurately portrayed, which is yet another first of its kind. The original Renko bar was designed to smooth out price movement, but it sacrifices accurate back-testing. When using this mode, the SiBacktestRenko will only show you the truth. Simply put, it is the most accurate Renko on the market for back-testing.
---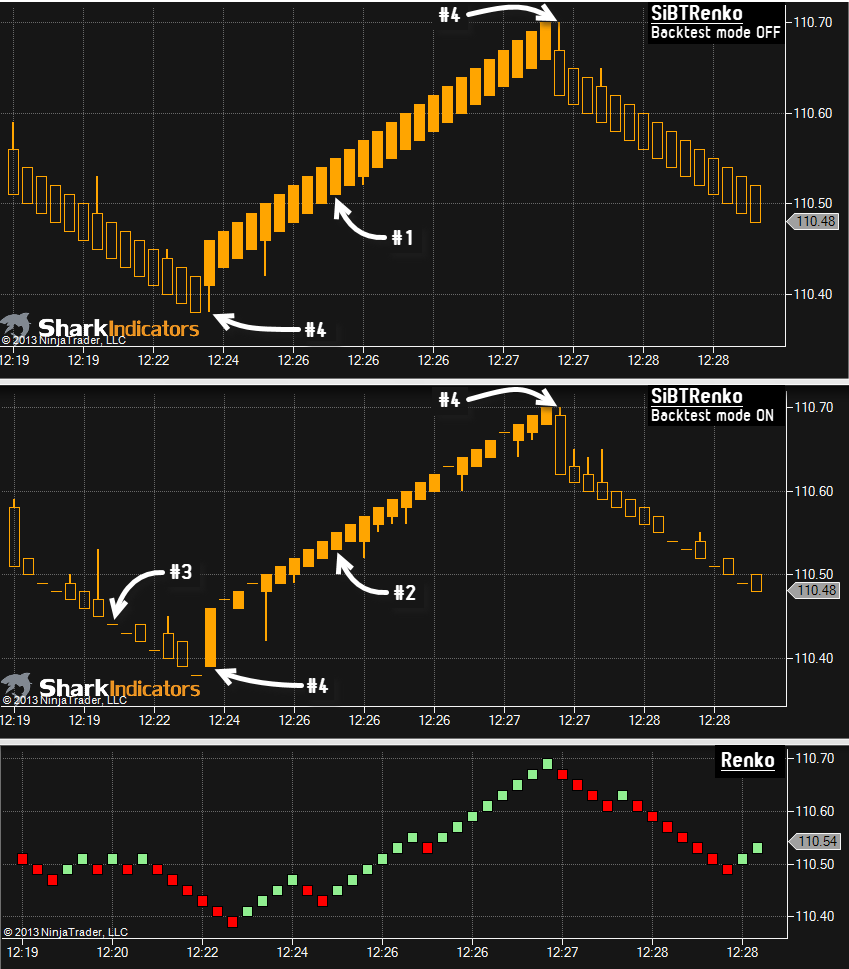 ---
Buy Now
---
Using the BacktestRenko in NinjaScript
This example illustrates how to add a BacktestRenko Bars to your NinjaScript.  It will add a BacktestRenko B:5 T:2 R:10 Backtest Mode:On  bar.
Value is the 'Brick Size' parameter.
BaseBarsPeriodValue is the 'New Trend Bar' parameter.
Value2 is the 'Reversal Size' parameter.
PointAndFigurePriceType sets the 'Backtest Mode' parameter.  PointAndFigurePriceType.HighsAndLows is ON. 
PointAndFigurePriceType.Close is OFF.
Please note, SharkIndicators does not provide coding support.  For further NinjaScript help please contact NinjaTrader support.  Thank you.
// NINJATRADER 8


else

 

if

 (State == State.Configure)
{
	AddDataSeries(

new

 BarsPeriod() { BarsPeriodType = (BarsPeriodType)

20122

, Value = 

5

, BaseBarsPeriodValue = 

2

, Value2 = 

10

, PointAndFigurePriceType = 

PointAndFigurePriceType.HighsAndLows

 });
}

---
Example File
This example indicator can be found in the SharkIndicators folder > Examples > SiBacktestRenkoSMAExample.  It demonstrates how to add the BacktestRenko as a secondary data series to your NinjaScript.
Download the import file below and import it into NinjaTrader using Tools » Import » NinjaScript Add-On.
Download import file for NT 8 (.zip)