Keltner Channel Targets & Stepping Stop-Loss
With the Keltner Channel Pack, you take trades with the trend, and continuously protect your position with smart stepping stop-losses.
The most advanced of our Trade Management Packs, the Keltner Channel system uses sophisticated logic to step up your stop-losses accordingly. They will step up to the next channel as the market crosses each channel line, locking in profits.
Do you have a preferred support and resistance indicator that you'd rather use instead of the Keltner? – Easily swap it out with BlackBird. Suppose you'd rather trigger the stop-loss to step up when you see something happen with an entirely different indicator… you can do that as well.
---
---
---
Keltner Bands

This trade manager demonstrates the power that indicators can play in establishing profit target prices and creating advanced stop-loss trailing. Each profit target follows its designated Keltner Channel .

Fully Customizable

All settings available to tweak. This lets you customize the trade management rules to your style, risk tolerance, and trading goals.

Comes With

BlackBird Template Files
Ninja Chart Templates
Ninja Workspaces
Documentation PDF
Video Guides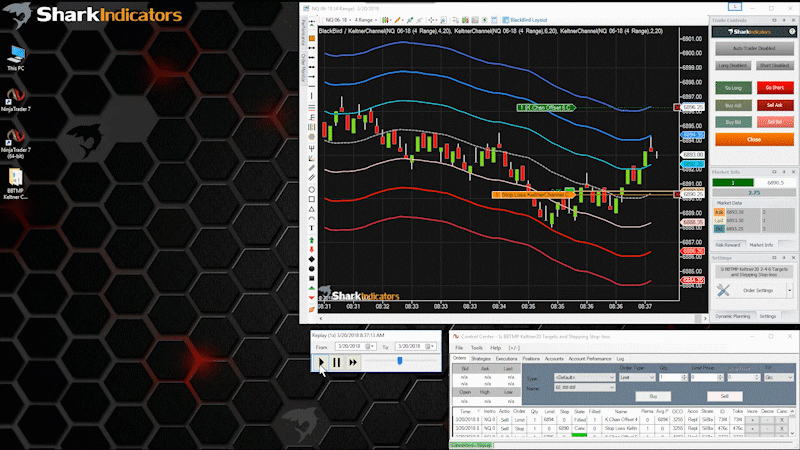 ---
Buy Now - Only $299
---
These Trade Management Packs offer a great starting point for BlackBird. They're fully open and customizable so you can tweak them to your trading style and goals. Requires a license of BlackBird. Questions? Contact us.
We offer no guarantee of profit from any of our products; these packs are a tool for getting started with BlackBird. See the risk disclosure.