AND Node
---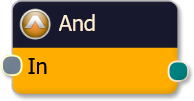 The AND Logic node behaves like a fuzzy logic AND.  The resulting output will be the minimum value of the inputs (a fuzzy AND operation).
---
Example
---
Imagine you had 5 criteria for a trading signal you are looking to represent in BloodHound, and your rules state that all 5 statements must be true (or favorable) in a given direction (long or short) before creating a trade signal in that direction. After adding each criteria as separate solvers you now have all 5 solver nodes added to your logic template workspace.
To complete your logic, you would simply connect each of the 5 solver's outputs to the inputs in the AND Logic Node. Finally you would connect the AND logic node's output to the Result node.
Connecting all 5 solvers to the AND Logic Node would ensure that all 5 had to be true for a particular direction (or favorable) before the AND logic node produced a favorable result. BloodHound would now indicate on your chart all the areas where all 5 criteria were satisfied.